An insight in to our members
While our members all work extremely hard in their day time roles as pet care professionals some also work extremely hard but quietly doing other things, be it some kind of volunteering, charity fund raising or other ways that benefit their community.
So we thought it would lovely to chat with some of them and see what they get up to!
Julie Fox is our member based in Shropshire and fund raises for local charities:
"My name is Julie Fox and I am a professional dog walker (Fox & Hounds Dog Walking & Pet Visiting Services) who has a hobby of painting rocks.
I turned this hobby into a way of raising money for charity.
I set up a FaceBook page several years ago called Foxy's Rocks and select different charities each year to receive the donations. My two charities for 2020 are Midlands Air Ambulance and Grinshill Animal Rescue, prior to these it was Finding Furever Homes, where I got Chester, my bouncy ball of madness.
My FB page has photos of all the rocks I've ever done, regular post updates and a pinned post explaining how I operate.
I'm busy at the moment as being locked down is giving me time to get lots of rocks out to people, meaning money is still coming in for my charities who are struggling as their normal fund raising events have had to be cancelled."
This is a recent example of Foxy's Rocks, sent to Captain Tom Moore in celebration of his 100 Birthday Walk For The NHS fund raiser: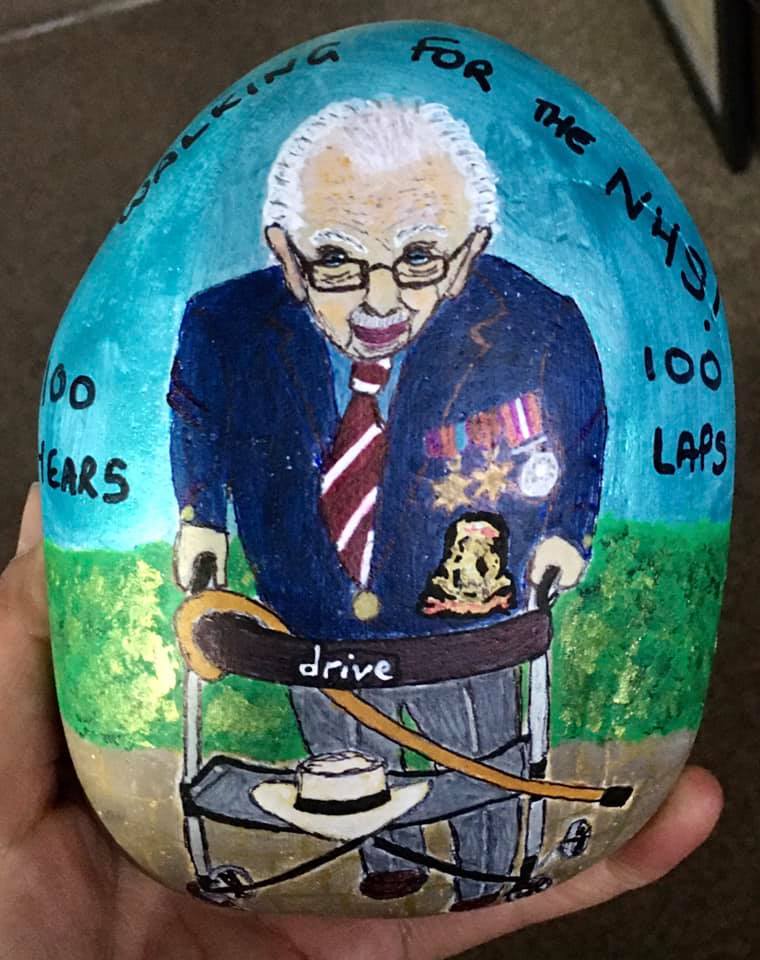 For more information about how you can donate to Captain Tom Moore's fund raising effort, visit his Just Giving page at:
https://www.justgiving.com/fundraising/tomswalkforthenhs?fbclid=IwAR2bECfb0RV5mX8bbOuxeiQgBBABMvot89j8rOEU1SSB8BnTSqPyog9y8Q8
You can check out Foxy's Rocks Facebook page below; do give her page a Like and a Share and if you can place an order:
https://www.facebook.com/FoxysRocks/
Big thank you to Julie for her permission to write this feature and we wish Captain Tom Moore a very Happy 100th Birthday!
Good Luck Both with your fund raising campaigns 🙂